There are 2 classes this Friday 2 August - 10am and 7.30pm. It is a Paper Class using the Gingham Garden DSP. We'll also be having some fun with the co-ordinating Washi Tape and making our own flowers and buttons with the Simply Pressed Buttons & Blossoms Clay Moulds.
Gingham Garden Designer Series Paper

129310

Price

:

$18.95

Your projects will bloom and grow with this paper assortment. Coordinates with Gingham Garden suite. Coordinating Colours: Night of Navy, Island Indigo, Melon Mambo, Daffodil Delight, Pear Pizzazz, Whisper White.

■ 12 sheets, 2 each of 6 double-sided designs
■ 12" x 12
■ Acid free, lignin-free
And here is a collage of samples pulled from the internet by some talented Stampin' Up! Demonstrators.
For a complete PDF of the sample cards you could make, visit my Drop Box "Cardmaking" - "Samples of Others" - "Wildflower Meadow and Gingham Garden - Samples of Others". I have sent the link to my regulars but let me know if you'd like a copy.
Not been to a Paper Class before? Here's how it works. You'll receive a pack containing 1 piece (
6" x 4")
of each design of the Gingham Garden DSP. You then select 3 cards from the sample sheets you'd like to make and I bring out a tray of the equipment and co-ordinating cardstock you'll need to complete the cards.
If you'd like to bring your own ribbons, embellishments and extra cardstock, the colours in this set are Night of Navy, Island Indigo, Melon Mambo, Daffodil Delight, Pear Pizzazz and Whisper White.
10am OR 7.30pm Friday 2 August
5 Capricorn Street, Bentley Park
$20 for 3 cards
Payment on booking and/or an undertaking that you'll buy the kit if you cancel.
Please bring your basic tool kit (Paper trimmer, double-sided tape, Stampin' Dimensionals, Pearls, Rhinestones, Stamp-a-ma-jig, scissor etc)
There is only enough DSP for 11 places for both the daytime and night-time classes so RSVP asap. Stop Press - Friday 10am class is fully booked - there are spots left for the 7.30pm class.
To shop for these items, head over to my Stampin' Up! Demonstrator website at http://www.stampinup.net/esuite/home/stampingwithsally/ and click on Shop Now - delivered straight to your door! Shop using the "Search" facility or browse the categories.

Gingham Garden Designer Washi Tape

129314

Price

:

$8.95

Warning: Washi tape is addicting. Once you start using it, you might not be able to stop! Embellish paper projects, mark really important things on your calendar, cover boring refrigerator magnets. Skip the ribbon on packages and criss-cross them with washi tape designs. Wrap pencils. Alter journals. Coordinating colours: Daffodil Delight, Melon Mambo, Pear Pizzazz, Night of Navy, Island Indigo.

■ 3 designs
■ 1 roll each of 3 widths: 3/8", 1/2", 5/8"
■ 5 yards per roll
Buttons & Blossoms Simply Pressed Clay Moulds

131272

Price

:

$13.95

Silicone moulds to create your own
embellishments. Use with our Simply Pressed Clay.

■ 2 total moulds: 1 with 3 flowers, 1 with
3 buttons
■ 2-1/4" diameter; 3/8" high
Simply Pressed Clay

130685

Price

:

$11.95

Moulding clay to create your own embellishments. Use with our silicone moulds. Add colour by kneading ink into clay or colouring with markers after it dries for a more saturated look. Air dry is all you need.

■ 2.4 oz.
■ White
Ribbon Share
The next RIBBON SHARE will be the 1.9cm Chevron Ribbon in 12 different colours.
You'll receive 1 metre of each colour: Basic Black, Blushing Bride, Calypso Coral, Cherry Cobbler, Chocolate Chip, Crushed Curry, Island Indigo, Marina Mist, Pear Pizzazz, Smoky Slate, Pumpkin Pie and Wisteria Wonder.
Ribbon shares are a great way to ensure you have a bit of "something to add" to match our cardstocks exactly.
Only 9 shares available at $22.33 per share. You'll receive 12 metres per share. Email me asap (E: sally.hayward@bigpond.com) - as soon as the spots are filled, I'll order.
Class Schedule for the Rest of 2013
I've amended the schedule to include some Friday nights - I haven't seen a few of you since rescheduling them to Sundays so hopefully this mix will ensure that we still get to see each other!
7.30pm Friday 13 September
10am Friday 20 September (this one may be cancelled ... Tom's last day of school sometimes has a party)
Please have a look at your diaries and let me know which dates suit you - if numbers are a bit light, I may cancel the class.
25% Off Greetings Sale continues .... until 31 July 2013 THAT'S TOMORROW!!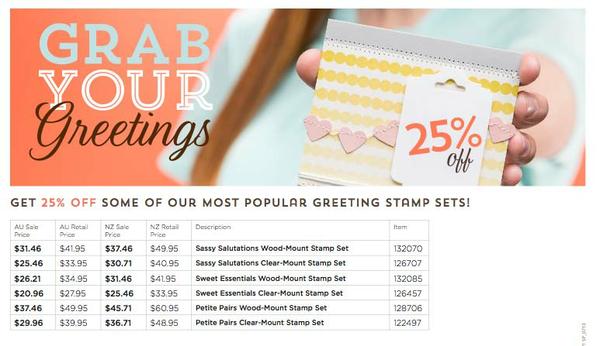 BEST OF ... continues
July's "Best of ...:" stamp set is Butterflies! What will the August set be??????
For a limited time, you can order these butterfly images as part of Stampin' Up!'s 25 year anniversary celebration.
This stamp set is available until April 2014 unless sold out earlier.
Item 133345 $25.95 (C only)
For a limited time, you can purchase these single stamps - available in cling mount only and comes in cellophane packaging.
These stamps are available until 31 August 2013 (unless sold out earlier).