There are 2 classes this Friday 26 July - 10am and 7.30pm. It is a Paper Class using the Soho Subway DSP.
Soho Subway Designer Series Paper

Item No. 130140

Price

: $18.95 BUY NOW
Bold, graphic designs with fresh colors to make it new. Coordinating colors: Crisp Cantaloupe, Early Espresso, Island Indigo, Summer Starfruit, Very Vanilla.

■ 12 sheets, 2 each of 6 double-sided designs
■ 12" x 12
■ Acid free, lignin free
And here is a collage of samples pulled from the internet by some talented Stampin' Up! Demonstrators.
For a complete PDF of the sample cards you could make, visit my Drop Box "Cardmaking" - "Samples of Others" - "Soho Subway DSP World Map Stamp". I have sent the link to my regulars but let me know if you'd like a copy.
I haven't had a Paper Class on a Friday night before so if you're new to it, here's how it works. You'll receive a pack containing 1 piece (
6" x 4")
of each design of the Soho Subway DSP. You then select 3 cards from the sample sheets you'd like to make and I bring out a tray of the equipment and co-ordinating cardstock you'll need to complete the cards.
If you'd like to bring your own ribbons, embellishments and extra cardstock, the colours in this set are Crisp Cantaloupe, Early Espresso, Island Indigo, Summer Starfruit and Very Vanilla.
10am OR 7.30pm Friday 26 July
5 Capricorn Street, Bentley Park
Please bring your basic tool kit (Paper trimmer, double-sided tape, Stampin' Dimensionals, Pearls, Rhinestones, Stamp-a-ma-jig, scissor etc)
There is only enough DSP for 11 places for both the daytime and night-time classes so RSVP asap.
Class Schedule for the Rest of 2013
I've amended the schedule to include some Friday nights - I haven't seen a few of you since rescheduling them to Sundays so hopefully this mix will ensure that we still get to see each other!
7.30pm Friday 13 September
10am Friday 20 September (this one may be cancelled ... Tom's last day of school sometimes has a party)
Please have a look at your diaries and let me know which dates suit you - if numbers are a bit light, I may cancel the class.
25% Off Greetings Sale continues .... until 31 July 2013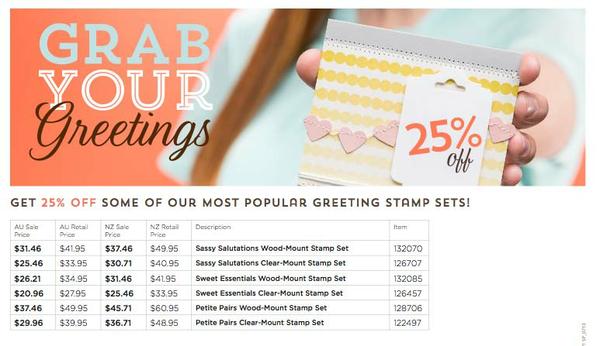 BEST OF ... continues
July's "Best of ...:" stamp set is Butterflies!
For a limited time, you can order these butterfly images as part of Stampin' Up!'s 25 year anniversary celebration.
This stamp set is available until April 2014 unless sold out earlier.
Item 133345 $25.95 (C only)
For a limited time, you can purchase these single stamps - available in cling mount only and comes in cellophane packaging.
These stamps are available until 31 August 2013 (unless sold out earlier).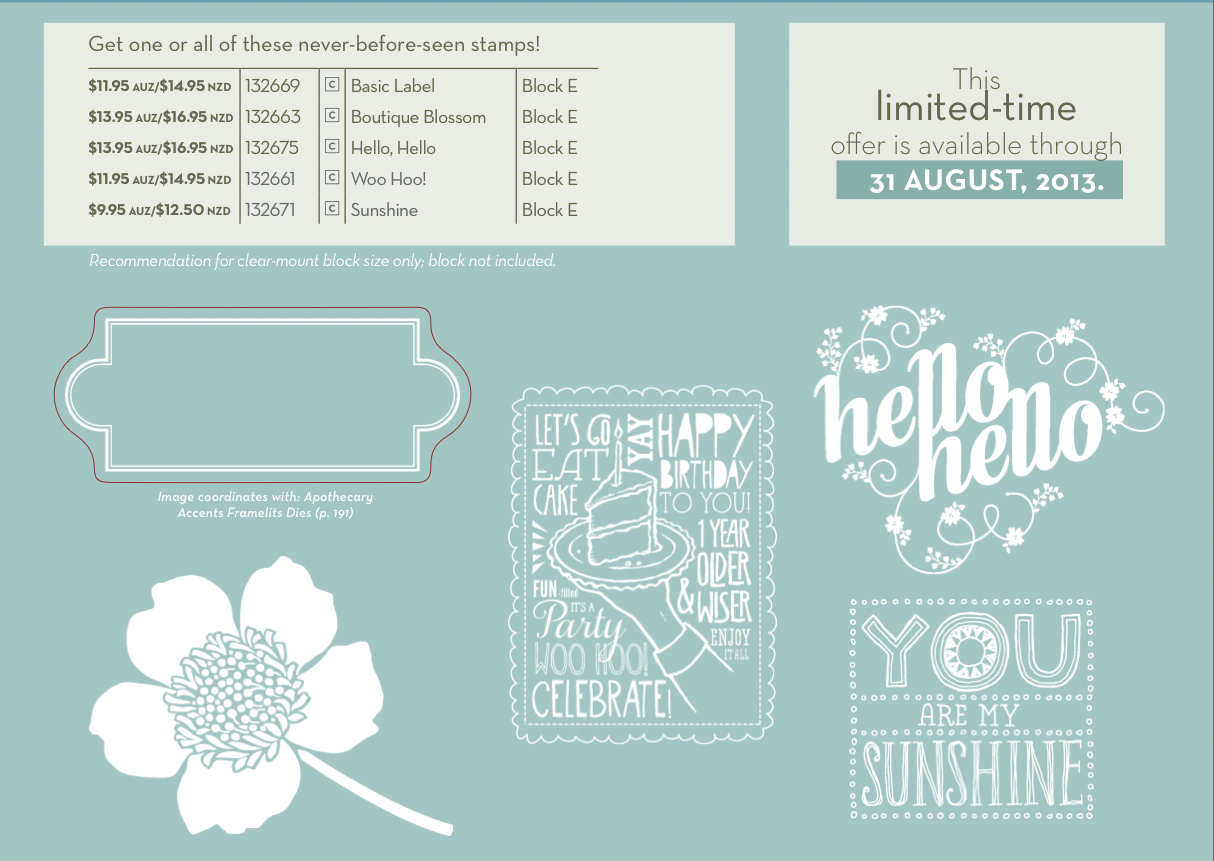 From the Stampin' Up! Home Office
MAGNETIC PLATFORM UNAVAILABLE FOR PURCHASE SOON
20 July 2013
Due to an unfortunate backorder situation, the Big Shot Magnetic Platform (item 130658) will be temporarily turned off when we run out of inventory; we expect to run out as early as today. When this happens, you and your customers won't be able to buy it until further notice. While we're thrilled to be offering a product that you and your customers clearly like, we regret not being able to anticipate just how much you would like it. We apologise for any inconvenience this may cause.
Here are answers to a couple questions you might have:
Why are you doing this?
We went through what we thought would be a 13-week supply of the Magnetic Platform in just a few weeks, and rather than creating a backorder situation for you and your customers, we believe it's best to make it unavailable for purchase until we can replenish our inventory. Our supplier is working at capacity to meet our demand, and we will continue working closely with them to get the situation addressed as quickly as possible.
When will the Magnetic Platform be available?
We expect that it will be available early spring.
My Retreat Efforts
With numbers well down on last year due to a heap of last minute cancellations (twitch), I was able to spend the weekend creating a card or (... 50!) myself. Yup, I made over 50 cards!
Here are some (lots of "Thinking of You" for a friend who ordered 20):-
See you at the Colour Run on Sunday! My 2nd 5km Fun Run this year! What's going on?!?
Have a great week.
Sally